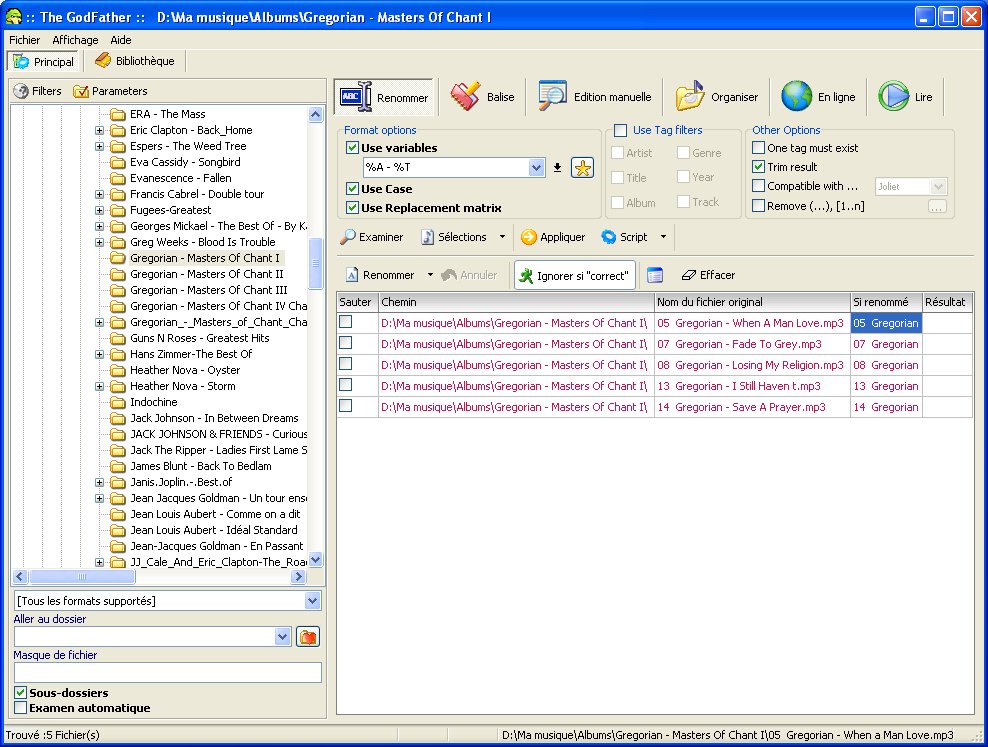 Si vous possédez de nombreuses musiques au format MP3 ou Ogg Vorbis, le logiciel gratuit et en français The GodFather vous sera bien utile pour les organiser.

En effet, The GodFather vous permet de compléter les informations ID3 contenues dans les fichiers musicaux : titre, artiste, album, etc. Pour cela, vous pouvez effectuer ce retaggage à la main, en remplissant les différentes informations, ou bien en récupérant directement les informations à partir d'une base de données sur Internet. Vous pourrez ainsi facilement compléter les informations d'une série de morceaux d'un même album.

En plus de compléter les informations propres aux morceaux, The GodFather peut se servir de ces dernières pour renommer vos fichiers et les déplacer dans les dossiers adéquats (par genre par exemple). Notez que The GodFather vous permet également de rechercher les morceaux que vous avez en double afin de supprimer les doublons.

Ajoutez à tout cela, la possibilité de convertir vos fichiers en MP3, Ogg Vorbis ou WAVE et de créer des listes de lecture ou d'exporte la liste de vos albums et vous avez un logiciel très complet (peut être même un peu trop pour le débutant qui peut se retrouver perdu au début) pour gérer vos MP3.

Pour traduire le logiciel en français, après l'avoir installé, cliquez sur le menu File puis sur Options. Cochez la case Use language file et cliquez sur l'icône représentant un dossier. Sélectionnez alors le fichier french.lng du dossier C:\Program Files\The GodFather\Lng et cliquez sur le bouton Ouvrir. Cliquez enfin sur Ok pour redémarrer le logiciel. The GodFather est désormais en français.
Nom : The GodFather
Version : 0.80
Editeur : TGF
Prix : Gratuit
Langue : Français
Taille du fichier : 6,03 Mo
Système : Windows XP/Vista/7
Mise à jour : Le 19/10/2010 à 08:46